David Messina (fumettista)
Diplomatosi alla Scuola Internazionale di Comics nel 1995, con specializzazione in Fumetto Americano, comincia a lavorare soprattutto nel campo dell'illustrazione dei giochi di ruolo. Realizza anche alcune illustrazioni per Nathan Never e Jonathan Steele.
Nel 2003 realizza una serie di volumi erotici per il mercato francese, spagnolo e statunitense. Sempre nel 2003 lavora come colorista ufficiale della serie Voltron della Devil's Due, collaborando anche ai 2 speciali di Hack/Slash scritti da Tim Seeley e disegnati da Federica Manfredi, e colorando un numero della serie G.I. Joe Frontline sempre realizzato da Tim Seeley per la Devilìs Due.
Sempre con Scott Tipton e suo fratello David Tipton realizza la miniserie Star trek Klingon: Blood Will Tell (2007), Star Trek Spotlight: Gorn (2007),Star Trek Next Generation: Intelligence Gathering (2008), Star Trek: Mirror Image (2009) e i racconti brevi Angel First Night: Spike su testi di Brian Lynch e Popgun Antology: Wide Awake su testi di Brandon Jerwa ed Eric Trautmann.
Nel 2009 comincia la sua collaborazione con la Bad Robots e la Orci & Kurtzmann Production realizzando la prima miniseria della trilogia di Star trek legata al nuovo film di J.J. Abrams. Realizza così Star Trek: Countdown (2009) su testi di Mike Johnson e Tim Jones, Star Trek Nero: The Lost Years (2009) su testi di Mike Johnson e Tim Jones e Star Trek: The Movie Adaptation (2010) sempre su testi di Mike Johnson e Tim Jones.
Sempre nel 2009 realizza le miniserie Angel: Smile Time con Elena Casagrande su testi di Scott Tipton e Angel: Only Human su testi di Scott Lobdell. Inoltre realizza i layout e la supervisione della miniserie Spock Reflections realizzata insieme a Federica Manfredi su testi di Scott e David Tipton. Nel 2010 crea insieme a Bill Williams e Bill Willingham il personaggio di Eddie Hope di cui realizza le prime cinque storie pubblicate sulla serie regolare Angel dal numero 28.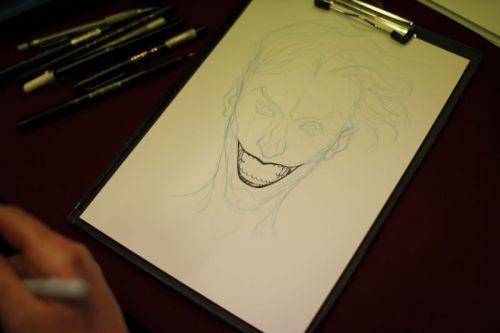 È inoltre uno dei due copertinisti ufficiali dell'albo Fuuuzz.
Attualmente è al lavoro sulla miniserie True Blood basata sull'omonima serie televisiva, su trama di Alan Ball e sceneggiatura di David Tishman, Mariah Hener e Joe Alabama detto "Joe Bania".