Comic book artist sets up shop at The Hub
Comic book artist Mike Gagnon works on a sketch at The Hub, Sunday. ALLAN BENNER Tribune Staff
Comic book characters have become the mythical heroes of this generation, said artist Mike Gagnon.
"They let people live out their power fantasies," said Gagnon, whose work has been published in numerous comic books during his career. "It lets them imagine that they can be someone who can help others and make a difference and improve society."
But people don't need super powers to make a difference in their community, Gagnon added. They only need to take action and work towards making a difference in their community.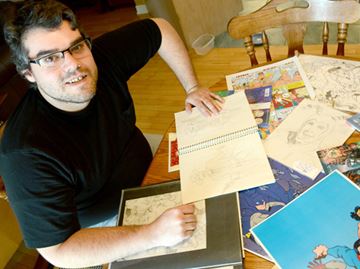 And that's the spirit behind The Hub, a not-for profit free community workspace founded at 138 East Main St. in Welland, by social justice advocate and filmmaker David Clow.
Gagnon said you don't need to be a superhero or a fantasy figure.
"You can make a difference just by helping out and contributing to your community," he said.
Gagnon was at The Hub, Sunday celebrating Free Comic Book Day – albeit a day late – displaying his work and talking to comic book fans from throughout the community.
He was also selling sketches for donations to help support the community venue, to allow to continue offer people free Wifi services, work space "or even sometimes just being able to come in and get a coffee is something that can help make the day for someone."
Although Gagnon welcomed the bright sunny weather, Sunday, he said it might have kept people away who opted to bask in the sun rather than look through the displays of comic book artwork.
Meanwhile, wind gusts also hampered his efforts to promote the event.
"It's hard to make people aware of what's going on in here when I can't keep the signs outside without them blowing down the sidewalk," he said.
But nevertheless, Gagnon said there were "a lot of people who stopped by who knew about it to check things out."
And he kept himself busy throughout the day, working on sketches.
Clow said the place was substantially busier a night earlier, when comedians Jeffrey Stroop and headlined by David Green took the stage to entertain audiences.
"It was packed. Every seat was full, that's for sure," he said.
Gagnon will return to The Hub at 4 p.m. each Wednesday this month, teaching classes on comic book illustrations for children from 7 to 12 years old, followed by creative writing lessons from 6 to 9 p.m. for people 17 and older interested in learning tips about creative writing.
Lessons are $20 each, and some of the proceeds will be provided to The Hub to help cover the cost of running the venue.
For more information, visit www.facebook.com/TheHubWelland.