Manga artist Kosuke Fujishima's Original Art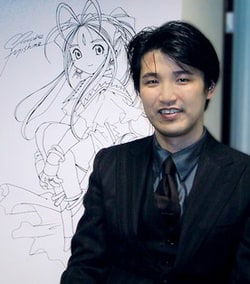 "Paradise Residence" 1st volume will be published on February 23, 2015
December 16, 2014 4:30am PST
(há 19 dias)
In commemoration of the release of the first volume of his latest work Paradise Residence, acclaimed manga artist Kosuke Fujishima's largest original art exhibitions, titled "Kosuke Fujishima Art Works," are scheduled to be held in Tokyo, Osaka, and Nagoya next spring. It will feature his original arts from his oldest to latest works with various production materials. His autograph sessions are also planned during the events.
50-year-old Fujishima made his debut as a professional manga artist with Taiho Shichauzo!/You're Under Arrest in 1986, and is best known for his internationally popular series Aa! Megami-sama/Oh My Goddess!, with character design works for various game franchise such as Sakura Wars and Tales.
Paradise Residence was first serialized in Kodansha's good! Afternoon randomly since 2008. After his
long-running series Oh My Goddess! ended on Monthly Afternoon, it has moved to the magazine instead.
Kodansha will publish the volume 0 (including the first 8 episodes from good! Afternoon) and volume 1
simultaneously on February 23, 2015.
http://www.crunchyroll.com/anime-news/2014/12/16/oh-my-goddess-manga-artist-kosuke-fujishimas-original-art-exhibition-to-be-held-next-spring